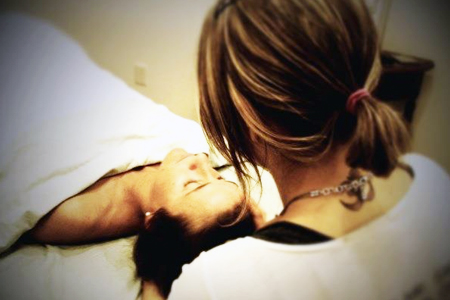 Swedish
This classic, full-body massage utilizing kneading and long flowing strokes will help reduce tension, increase circulation and induce relaxation. A truly remarkable spa experience.
(60 min) $100
(90 min) $150
Deep Tissue
An intensive massage focusing on the deeper layers of muscle, using slower deep strokes, direct pressure points and friction are applied across the
grain of the muscle. Breath and movement are employed to assist in relieving muscular congestion and tension.
(60 min) $110
(90 min) $160
Organic Lavender Massage
Choose from any of our modalities offered to include a high quality nourishing body oil from Victoria's Lavender. Get soft, hydrated, glowing skin and aromatherapy with your massage!
(60 min) $135
(90 min) $175
Hot Oil Massage with Gift
Choose your scent of a Moisturizing Body Candle from Victoria's Lavender to be used in your massage and as a take-home gift! This mixture of cosmetic grade soy wax, shea butter, avocado oil, sunflower oil and blend of essential oils is formulated to be used as a massage oil or as a body lotion while providing an aromatic experience as well as deeply nourishing the skin without reaching burning hot temperatures.
Single $140
Couples $280
Lomi Lomi
Hawaiian massage is called Lomi Lomi. It utilizes fluid rhythmic motion, kneading, lymphatic, and reflexology modalities. Lomi Lomi is a holistic healing tradition beyond simple massage.
(60 min) $115
(90 min) $160
Thai Massage
Traditional Thai stretches are used to soothe stiff, strained muscles and ligaments. This treatment has a therapeutic, relaxing and invigorating effect on both body and mind.
(60 min) $125
(90 min) $165
Therapeutic Massage
In a therapeutic massage we focus on a particular area to increase range of motion, and release pain. Our elite educated team uses PNF, deep tissue, ROM, stretching, and your therapist will give homework to educate how you can take care of your body. Therapeutic massage can include hot stones, arnica and ice if the body needs it.
(60 minute) $140
(90 minute) $175
Shiatsu
In shiatsu, one of the most ancient forms of massage, the therapist applies pressure to specific points using thumbs, palms, elbows, knees and feet to release tension in over-worked muscles. The treatment also helps balance the body's energy flow.
(60 min) $125
(90 min) $165
Cranial Sacral
Cranial sacral therapy seeks to restore misaligned bones to their proper position and works to eliminate the negative effects of stress as well as provide relief from migraine headaches, neck and back pain, temporomandibular joint disorder and more.
(60 min) $125
(90 min) $165
Aromatherapy Massage
In our aromatherapy sessions we have chosen to use medical food grade essential oils. Each session is personalized to meet clients needs. If smells are relaxing to you, try going on a journey with your senses while treating your body and mind.
(60 min) $125
(90 min) $165
Pre Natal Massage
This nurturing massage for expectant mothers alleviates many of the physical and emotional pregnancy-induced challenges. Expectant mothers lie safely and comfortably as muscle aches, fatigue, headaches, and water retention are eased.
(60 min) $110
(90 min) $160
Post Natal Massage
Postnatal massage and bodywork can relieve the stress of delivery by facilitating recovery of the postpartum woman and providing emotional support for the transition into motherhood.
(60 min) $110
(90 min) $160
Hot Stone Massage
Warmed stones are placed along the body's meridians and are used throughout the massage to knead and soothe sore, tired muscles. Stress will gently melt away.
(90 min) $170
Lymphatic Massage
Lymphatic massage is a massage form that addresses the fluid body (and we are mostly fluid, approx 60-80%). It is a deeply relaxing technique that gently pumps, imitating the body's way of moving its fluids. It is a non-oil massage, rhythmic and hypnotic.
Lymphatic massage is the most effective massage for circulation, and especially any form of edema (swelling). It can be used for posttraumatic injury or surgery to reduce the swelling and speed up the healing time. It can also be used to help treat migraines, sinusitis, acne, tinnitus, and high blood pressure. It is helpful wherever there is poor circulation, or a need for detoxification.
(60 min) $110
(90 min) $160
Reiki
Reiki is a form of "hands-on-healing" in which the practitioner works with universal life force energy to restore the client's energy centers (chakras) to their most natural state of flow. This process helps to restore and strengthen the whole system-mind, body, and spirit-for wellness.
Reiki is great for anyone seeking relief from ailments such as stress, physical pain, anxiety, arthritis, depression and fibromyalgia.
(60 min) $110
(90 min) $160
Reflexology Massage
In the ancient art of reflexology, a natural healing practice, reflex areas on the hands and feet corresponding to all parts of the body are stimulated. Tension and stress are relieved in a natural way.
(60 min) $110
Acupressure
Acupressure is an ancient healing art using the fingers to gradually press key healing points, which stimulate the body's natural self-curative abilities. Acupressure releases tension, increases circulation, reduces pain, and develops spirality and vibrant health.
(60 min) $115
(90 min) $165
Trigger Point Massage
Trigger point work is specifically designed to alleviate the source of the pain through cycles of isolated pressure and release. In this type of massage the recipient actively participates through deep breathing as well as identifying the exact location and intensity of the discomfort.
The result of trigger point massage is the elimination of toxins in the muscles and the release of energizing endorphins. A significant decrease in pain is often found after just one treatment.
(60 min) $115
(90 min) $165
Intuitive Massage
Intuitive massage utilizes a combination of modalities catered specifically to each clients needs.
(60 min) $110
(90 min) $160
Mini Massage
Mini massage is a any style thirty minute massage. Not valid for groups of 3 or more unless it is an add-on to a facial, scrub, or wrap.
(30 min) $75
Local's Special Package of five 50 minute massages $400 (Buy 4 get 1 free)