About Our Pacific Grove Location
Celebrating anything? Just want to take the day to relax? Our exclusive Pacific Grove location is a private destination where couples, or parties can come and relax in this spectacular spa experience or for guests celebrating a special event. Wanting to host an event? Rent this space for a private party guaranteed to be a hit. It's the perfect place for a bridal party, anniversary, business meetings, trainings, or just something special.
The entire facility is open to you during your time. The facility amenities include:
Kitchenette
Quiet Resting Room
Treatment Room
Board Room / Dining Area
Loft for Services/ Meeting Room
Projector/TV
Board Games
Snacks/Tea/Coffee
WIFI
Locker Room (the three showers include organic toiletries)
Private Heated Soaking Pool (ranging in temperature from 96-104 degrees)
Upon arrival guests can soak in our 12ft by 12ft, 4ft deep therapeutic hot pool, sauna and have all access to the entire facility. We do provide fruit, water, tea, and coffee.
Pacific Grove is available for private events.
Address and Contact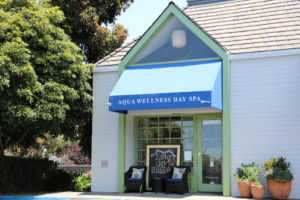 Pacific Grove
1199 Forest Ave, Pacific Grove CA 93950
831.250.7433
aquawellnessdayspastaff@gmail.com