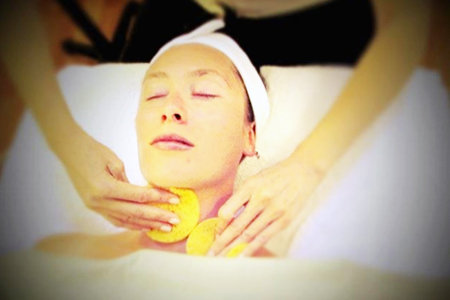 Lavender Exfoliates (30 Minutes) $115
A sugar glow is one of the most popular body treatments at Aqua Wellness Day Spa. The Lalicious Lavender scrub is one of a kind. The sugar scrub begins as a powerful exfoliator, but then dissolves into a shea butter to deeply hydrate your skin. Our scrubs have a dual purpose, exfoliating while hydrating the skin. This thirty minute full body treatment is a MUST! This treatment is suitable for those with poor blood circulation, recommended for those following detoxification programs, and those looking for softer smoother skin.
Lalicious Lavender Body Wrap (60 Minutes) $185
If you love lavender, then you'll love this one of a kind lavender body wrap. This hydrating wrap starts with our whipped Lavender blended scrub, followed by a lavender oil hydrating wrap, with blends of shea butter, avocado oil, sunflower oil, and vitamin E. Leave feeling renewed, hydrated, and smelling amazing!
Lalicious Pure Luxury Body Wrap (60 Minutes) $200
This indulgent blend of pure luxury and sophisticated fragrance body treatment is perfect for someone who wants a luxurious hydrating and illuminating glow! The treatment begins with our luxury sugar scrub exfoliating the entire body. Next, you are wrapped in a blend of an ultra hydrating body butter and signature oil, that absorbs into the skin providing long lasting nourishment that rejuvenates, restores and protects leaving your skin velvety soft.
Eminence Blueberry Bliss Slimming Body Wrap (60 Minutes) $205
Slimming, Toning, Firming
Enjoy our Eminence Blueberry Bliss Slimming Body Wrap. This delicious blend of blueberry, guava, raspberry and grapefruit will stimulate circulation and increase your metabolism so you can shed all the extra water, inches, and improve your skin's texture at the same time. This firming body treatment is rich in antioxidants which help to improve elasticity and reinforce collagen fibers to the skin. We start with an antioxidant rich nourishing blueberry scrub, then wrap in Blueberry Soy Slimming Body Wrap. We then add the Eminence Organic Herbal Cellulite Spot Treatment to an area on the body. This spot treatment is meant to target specific areas of cellulite to reveal a firmer, more even textured skin. End with a luxurious massage of Blueberry Soufflé to highlight and hydrate your new glowing skin.
Eminence Stone Crop Body Wrap (60 Minutes) $185
This treatment is perfect for those with dry, hyperpigmented, or even sensitive skin. Start your body treatment with an invigorating stone crop and lemon salt scrub (Do not shave for 24 hours before your session). Layered on top is the Eminence Stone Crop Restorative Body Wrap, the enzymes work together to brighten and hydrate the skin. End your session with a lightweight stone crop body oil and in targeted area the Stone crop contouring cream, for a hydrated and plumper looking skin.
CBD Body Wrap (45 Minutes) $195
Indulge in a full body CBD treatment with two take home gifts. We will begin with a dry brush exfoliation that helps with circulation. We then wrap the body in our potent and luxurious radiant CBD body oil. Our CBD oil helps with inflammation, skin irritation, pain and stress relief. While wrapped, you will experience a CBD facial oil massage. Take home gifts include a dry brush and a CBD sparkling beverage. Important not to shower for 4-6 hours after the wrap for maximum benefit of the CBD.
Add On
Detoxifying Hungarian Herbal Mud Back Treatment $40 (Good for breakouts, dull skin, circulation, and detoxification.)
CBD Facial Oil Massage $40
Eminence Organic Radiant Facial $40 (An amazing results oriented exfoliating peel.)
Herbal Cellulite Treatment for target treatment $40
Eco Fin (Organic Paraffin) Hands or Feet $40
Hydro-Jelly Facial Masque $40
Thirty Minute Hot Stone Massage $80
Eminence is a handmade organic skin care line from Hungary, which is a leader within the professional skin care industry. It was created over 50 years ago in a small village where there were generations of knowledge for medicinal uses of plants. Hand-farmed using only natural fertilizers and insect repellants and handmade without any harsh chemicals or preservatives, Eminence offers a pure and results-oriented collection of product that has something for everyone. Eminence utilizes the power of probiotics, potent herbs, fruits, and vegetables with its plant-based stem cells, enzymes, AHAs, BHAs, and natural but highly effective alternatives to retinol and hydroquinone.
The Mission of Victoria's Lavender, Luxury Lavender Products is to provide pure and natural ingredients in quality products that are beneficial to the body and soothing to the soul. We work hard at creating lavender products that are innovative, high in quality as well as attractive.
Fresh off the runways of fashion week. As seen in Allure, Marie Clair, Town & Country, Redbook, Vogue, Bazaar, Instyle, W and Glamour.
Seven years ago, we revolutionized the way to prepare vital and fresh water at home. Following age-old traditions, we created gemstone vials to hygienically inspirit drinking water. Our vision now and then is to provide you with homemade, natural gemwater like fresh from the spring!
VitaJuwel gem vials are made from lead-free glass and hand-picked gems. We offer several different gem blends, tested by naturopaths and based on the insights of modern crystal healing. Their scientifically proven efficiency make them an essential accessory in health-seeking households worldwide.
All of our products are designed with devotion in the German alpine uplands, tested by friends all over the world and traditionally hand-crafted in a patented, artisanal method by master glassblowers in Bohemia.