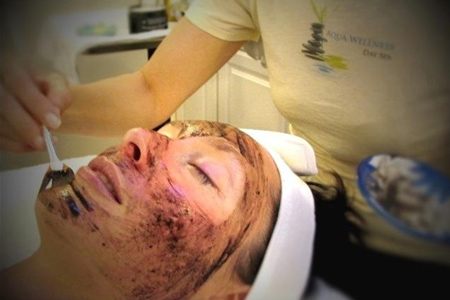 Treat Yourself To a Facial Today
If you are unsure which facial would be best for you, go ahead and book your appointment and tell us you will choose when you arrive. One of our highly trained estheticians will consult with you while you are on the table.
Customized Eminence Facial $165 (60 minutes) $195 (90 min)
No matter what your concerns about your skin are, we have something for you! Enjoy a relaxing, results-oriented facial customized to fit your needs. Eminence is packed with organic nutrient-rich fruits, vegetables and herbs.
Classic Stone Crop Facial $140 (50 min)
Looking for a basic facial to relax, hydrate, revitalize, and nourish? This is the facial for you. Stone crop is a healing plant used by herbalists for centuries to heal a multitude of skin conditions and great for all skin types!
Eminence Medical Grade Plant-Based Peel $180 (30 min) Series of three $470
A combination of plant-based enzymes and alpha hydroxy acids work together to reduce hyperpigmentation, sun damage, pore size, and fine lines and wrinkles, as well as increasing the production of collagen. A series of three is recommended based on the cell turnover rate for best results.
Eminence Plant-Based Peel $100 (30 min)
Peel away dead skin cells while reducing the appearance of your specific concerns, whether it's hyperpigmentation, acne, acne scarring, fine lines and wrinkles, enlarged pores or sun damage, with naturally occurring enzymes that also increase collagen production, resulting in radiant skin. With gentle yet extremely effective peels for sensitive and rosacea skin types to peels for resilient tough skin. Your esthetician will consult with you to choose which peel fits your needs. A series of six is recommended based on the cell turnover rate for best results.
Eminence Back Facial $170 (50 min)
All the luxuries of a facial for your back! Deep cleansing and exfoliation for this hard to reach area, with extractions if needed. Also featuring a back massage and treatment masque specific to your skin concerns.
Microdermabrasion $160 (45 min) Series of six $700
Microdermabrasion is an effective, gentle way to exfoliate the outermost layers of the skin. It reveals softer, smoother, more vibrant skin while promoting the regeneration of new skin cells and aiding in the reformation of collagen and elastin as well as reducing the appearance of stretch marks, age spots, pigmentation imbalances, scarred tissue, enlarged pores, and fine lines and wrinkles. This non-surgical and FDA approves treatment has no down times and offers immediate results. For best results, a series of six based on the cell turnover rate is recommended.
Add Ons
Facial Booster $40
Plumping and Rejuvenating Lip Treatment $40
Plumping Eye Treatment $40
Customized Peel $40
Brow Wax $40*
Lip Wax $40*
Eyelash Tint $40
Eyebrow Tint $40
*Price only available as Facial Add-on
Eminence is a handmade organic skin care line from Hungary, which is a leader within the professional skin care industry. It was created over 50 years ago in a small village where there were generations of knowledge for medicinal uses of plants. Hand-farmed using only natural fertilizers and insect repellants and handmade without any harsh chemicals or preservatives, Eminence offers a pure and results-oriented collection of product that has something for everyone. Eminence utilizes the power of probiotics, potent herbs, fruits, and vegetables with its plant-based stem cells, enzymes, AHAs, BHAs, and natural but highly effective alternatives to retinol and hydroquinone.
The Mission of Victoria's Lavender, Luxury Lavender Products is to provide pure and natural ingredients in quality products that are beneficial to the body and soothing to the soul. We work hard at creating lavender products that are innovative, high in quality as well as attractive.
Seven years ago, we revolutionized the way to prepare vital and fresh water at home. Following age-old traditions, we created gemstone vials to hygienically inspirit drinking water. Our vision now and then is to provide you with homemade, natural gemwater like fresh from the spring!
VitaJuwel gem vials are made from lead-free glass and hand-picked gems. We offer several different gem blends, tested by naturopaths and based on the insights of modern crystal healing. Their scientifically proven efficiency make them an essential accessory in health-seeking households worldwide.
All of our products are designed with devotion in the German alpine uplands, tested by friends all over the world and traditionally hand-crafted in a patented, artisanal method by master glassblowers in Bohemia.