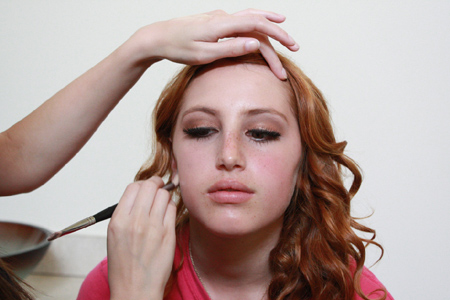 Available for weddings, prom, special occasion or just because.
Aqua Wellness Day Spa is proud to introduce our Gloss and Glam Girls. Specializing in customized makeup application for your every need.
Just Because $75
Are you just learning? Are you looking for new colors to incorperate in your look? Wondering what it would be like to get your makeup done by a professional? Come get your makeup done with Gloss and Glam Girls at Aqua Wellness Day Spa, just because!
Prom $120 Per Person
Glitz Glitter Glam private VIP treatment for you and your bestie. Enjoy your spa party, listen to music, sip apple cider, while our Gloss and Glam Girls prep your face with our Eminence Organics Radiant Facial followed by a customized makeup application.
Bridal $175
Have you been dreaming of the day that you would walk down the aisle and meet your "prince charming"? Beautiful bride, let our Gloss and Glam Girls enhance your natural beauty and pamper you to help make your fairytale dreams come true, and off to your wedding day with you!
Add On:
False Lash $25
Winged Eye Liner $10
Eminence is a handmade organic skin care line from Hungary, which is a leader within the professional skin care industry. It was created over 50 years ago in a small village where there were generations of knowledge for medicinal uses of plants. Hand-farmed using only natural fertilizers and insect repellants and handmade without any harsh chemicals or preservatives, Eminence offers a pure and results-oriented collection of product that has something for everyone. Eminence utilizes the power of probiotics, potent herbs, fruits, and vegetables with its plant-based stem cells, enzymes, AHAs, BHAs, and natural but highly effective alternatives to retinol and hydroquinone.
The Mission of Victoria's Lavender, Luxury Lavender Products is to provide pure and natural ingredients in quality products that are beneficial to the body and soothing to the soul. We work hard at creating lavender products that are innovative, high in quality as well as attractive.
Seven years ago, we revolutionized the way to prepare vital and fresh water at home. Following age-old traditions, we created gemstone vials to hygienically inspirit drinking water. Our vision now and then is to provide you with homemade, natural gemwater like fresh from the spring!
VitaJuwel gem vials are made from lead-free glass and hand-picked gems. We offer several different gem blends, tested by naturopaths and based on the insights of modern crystal healing. Their scientifically proven efficiency make them an essential accessory in health-seeking households worldwide.
All of our products are designed with devotion in the German alpine uplands, tested by friends all over the world and traditionally hand-crafted in a patented, artisanal method by master glassblowers in Bohemia.